Mt. Logan (19,850′)
(24 days)
Mount Logan, at 19,850 feet, reigns as Canada's highest peak and the second highest peak in North America. It is the most massive mountain in the world, measured by its base circumference. It is twenty-five miles long and rises more than two miles above its surroundings.
We ascend the mountain via the King Trench Route. This is the easiest way to the summit, but similar in difficulty to the West Buttress of Denali. The climb starts at 9,000 feet and is a 16-mile journey to the summit. We will take 24 days round trip from Haines, climbing the mountain expedition style in an incredible arctic environment.
Highlights
HAINES: Haines Alaska is the starting/finishing place for this trip. Haines is a small community located along the fjords at the top of the Inside Passage. The natural beauty and wilderness access found here are responsible for Haines' reputation as a center for wilderness adventure in Alaska.
ITINERARIES AND ALTITUDE: Our itineraries include ample time for rest and acclimatization days. They are designed to provide participants with a positive high altitude experience!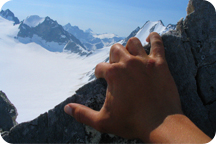 WEATHER: Due to its proximity to the Gulf of Alaska, the weather on Mt. Logan can be extreme. Weather conditions play a significant role in the ability to access and depart from this area using aircraft. We've added a handful of extra days to allow for weather difficulties while on the mountain or waiting to get to the mountain. Open-ended travel arrangements are strongly recommended.
*In the unlikely event that access to the mountain doesn't fit into our time frame due to the weather, other options such as Mt. Fairweather or Mt. Bona may be considered.
OUR GUIDES: Alaska Mountain Guides & Climbing School Inc. instructors and guides are professionals. They are special individuals who have a passion for being in the mountain environment. They have a wealth of experience from guiding throughout Alaska and the world, and they genuinely enjoy sharing their knowledge. Their skill and positive attitudes help our guests to have the best possible experience during their trip. Your safety and enjoyment are their primary goals.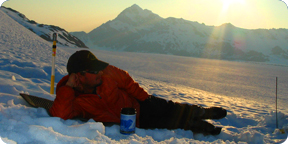 PULSE OXIMETERS: Pulse Oximeters are small, precise, medical instruments that essentially give a digital readout of how you are acclimatizing. With this information we can make more informed decisions as to how we can best tailor the trip to meet your individual needs. We use them every step of the way, on every trip to altitude. In our opinion all high altitude guides should have one to help assure your safety!
LENGTH: 24 Days – Haines to Haines
INCLUDED: Ski plane flights and ground transportation in Haines, all food during the trip, instructors/guides, and all group climbing and camping equipment.
NOT INCLUDED: Airfare to/from Haines, hotel and food in Haines, personal equipment, and sales tax.
ADDITIONAL TRAVEL OPTIONS: Haines based programs can easily be combined with rafting, sea kayaking, and mountain bike trips. Sea kayak and mountain bike rental are also available. Contact us if you would like more information.
DATES/PRICES: Please see our schedule for current dates and prices information.