Experience skiing like the pros in one of the world's premiere destination, in the most exclusive manner possible - via helicopter.
Trip Notes
Location: Alaska/Yukon
Meeting Point: Haines, AK
Destination: Haines, AK
Duration: 7 days
Price: $7800 (+ tax, in USD)
Activity Type: Skiing/Snowboarding
Season: February, March, April
Guide to Guest Ratio: 1 to 4
Difficulty Level: 3 out of 5
Paperwork Required: Registration, Liability Waiver
Trip Description
Experience Premiere Heliskiing in Haines, AK.
The historic town of Haines, Alaska at the northern end of Alaska's inside passage is surrounded by an extremely jagged, heavily glaciated, mountain landscape. The area is home to the world's largest non-polar ice cap. The peaks have 7,000 feet of vertical relief and rise directly from the ocean. The variety of terrain; from glacier cirques with a multitude of steep couloirs to open undulating bowls of heavenly powder make for world class skiing and riding. The combination of incredible skiing and the proximity to a helicopter base of operations make this area one of the best in North America for helicopter skiing.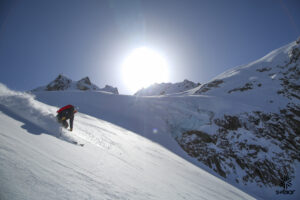 Experienced guides and expert pilots will lead you into one of the greatest heliski destinations in North America.  Stellar Alaska Mountain Guides, a unique partnership of Alaska Mountain Guides, and Stellar Adventure Travel brings together one of the most experienced team of professional guides in North America.
The mountains surrounding Haines have a relatively dry, continental snowpack and some of the clearest and most stable weather conditions anywhere in Alaska. Our guests have access to extensive un-tracked areas.  We've honed a serious of ideal helicopter circuits to maximize the quality skiing with minimal helicopter time while making the most of this epic terrain.
Featuring Haines only fly in, fly out remote heli lodge and delicious meals catered by a private chef. Enjoy down day activities such as driving tracked sport UTVs and snowmobiles or enjoying the luxury of the remote lodge and hot tub.
HAINES: Haines is a small community located at the northern end of the Inside Passage. Surrounded by mountains and receiving more snowfall on average than other parts of Alaska, Haines has become known for world class heliskiing. Regular flights are available from Juneau daily, ferry service is also available to get you here.
LODGING: Alaska Mountain Guides and Stellar Adventure Travel offer the only fly-in lodge in Haines. With the all inclusive package you'll get 6 nights at our lodge located 18 miles outside of town. With 60+ acres of private land guests enjoy an exclusive experience without having to worry about neighbors.
HELICOPTERS & PILOTS: Stellar Alaska Mountain Guides works with Temsco Helicopters exclusively. We've been partnered for over 10 years flying in both Haines and Skagway. Temsco operates one of the most professional, safe and efficient helicopter companies in North America.  We're proud to be working with Temsco and their incredible pilots.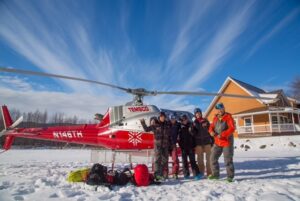 THE TERRAIN: With over 20+ years of heli-skiing, guiding and exploring the mountains of Haines, we've developed a series of ideal circuits for efficient flying, and maximum skiing of the best snow.  The mountains generally top out at about 6,000′ nearly straight from sea level.   Our heli-ski terrain spans from coastal peaks towering over the fjord to 30 miles interior with slightly drier, powdery conditions.  The scope of terrain gives us the ability to change areas fluidly to find the most flyable weather and best snow conditions. From more moderate powder runs, to steeper lines that get the blood pumping, our team is excited to show you the incredible mountains and glaciers surrounding Haines.
OUR GUIDES: Stellar Alaska Mountain Guides are professionals, putting a premium on our guests experience. Every trip draws on extensive guiding experience in Alaska, South America, Japan, and around the world. We are dedicated to creating an experience that exceeds guest's expectations!
Reggie Crist competed in the '92 Olympics and won gold medals in the X Games (02 & 05). His success as a competitor opened the door for filming with production companies such as Warren Miller and Teton Gravity Research. He has 20+ years of Alaskan Heli-ski experience and when he is not guiding up north, works as a lead guide for Sun Valley Heli. During the summer months he is a lead guide for Valle Nevado Heli in Chile. He works for Eddie Bauer and K2 designing, testing, and marketing their products. Working alongside Reggie, our team of guides & support staff will do their best to make sure your visit to Haines is an exceptional experience.
You'll stay at our heli lodge during your time in Haines. This is the only heli in/out lodging in Haines. The house features spacious common areas, spectacular views of the surrounding mountains, hot tub, TV and high-speed internet. Located 18 miles outside of downtown Haines, the lodge offers a remote Alaskan experience while still being close enough for a short drive to town to visit restaurants, bars, and other highlights of Haines.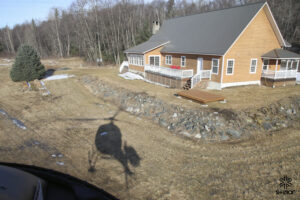 The lodge can accommodate up to 10 guests between shared rooms inside the lodge and a double occupancy yurt located just outside the lodge. Our gear up room is located within the lodge with the Heli parked just outside. The house features all new beds and comforters.
A private chef will create delicious home cooked meals. A to-go lunch and plenty of snacks will keep you going throughout the day, and between runs. All dietary preferences and restrictions can easily be accommodated.
All week packages run Saturday to Friday:
Day 1 (Sat): Arrive as early as possible, skiing in the afternoon is possible if your itinerary and weather allow.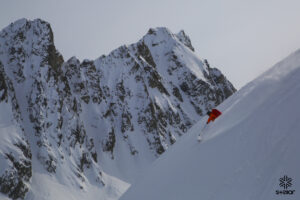 Days 2-6: We'll ski the mountains outside Haines with stunning views of the surround mountains and fjord. We'll make the most of each day, getting the most skiing possible with the allotted helicopter time. We have a variety of unique and fun down day activities for inclement weather.

Day 7 (Fri):  Schedule your departure as late as possible, skiing in the morning is possible if weather and remaining heli time allows.
There are a variety of fun, down day activities that our guides are accustomed to facilitating for our guests. This may include a trip out onto the ocean, snow machining on nearby trails. A Passport is strongly recommended as Haines is only 40 miles from the Canadian border, and traveling into Canada can be a fun down day activity. Of course, our primary focus is getting out into the world-class mountains surrounding Haines. We look forward to skiing with you in Haines!. Some of our down day options are included, and some are available for an additional cost.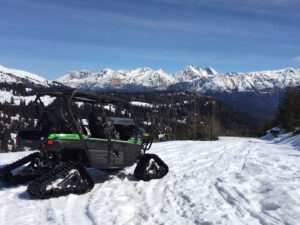 1/2 day Snowmachine Guided Ride: Join your guide for a ride into the Alaska wilderness and enjoy the thrill of riding snowmobiles in a variety of terrain.
1/2 day UTV SnowTrack Adventure: We have several Razor Style aggressive 4×4 outfitted with snowtracks. They are fun and comfortable to drive in a variety of conditions.
Charter Boat Exploration: We can travel over to Skagway for a visit, look for wildlife along the shores, and explore unique parts of the Upper Lynn Canal. Generally time out on the water would be about 4-6 hours.
UTV snow track supported backcountry skiing: Using the Snowtracked UTVs, we can access some great lower elevations tree skiing terrain.
Backcountry Skiing: About an hour drive away into Canada, there is good roadside access to a variety of skinning and skiing terrain.
Skins and Touring gear needed, and passports required.
In addition to these options, there are a series of fun things to do in Haines if the weather isn't cooperating to fly in the helicopter. Haines has several different Museums, a brewery, and distillery. The American Bald Eagle Foundation and Kroschel's wildlife park offer unique Alaskan experiences on a down day. There are a series of short half day hikes to get out and explore. Our guides have extensive local knowledge and are excited to make the most of the time in town, when we aren't able to fly.
Price: $7800(+ tax, in USD)

2019 Dates: March 9, 16, 23, 30, April 6, 13
What is included in the 7 day Haines heli ski package?
6 Nights of Lodging  – at our exclusive remote heli-in/out lodge
1 hour of HOBBS helicopter time
All ground transportation once you arrive into Haines, AK
Professional ski guides with 10+ years guiding experience in Alaska and a passion for sharing premiere ski experiences with guests.
All meals provided by a private chef, beginning with dinner on day 1 and concluding with breakfast on day 7
Snow safety equipment: avalanche beacon, shovel, probe, and avalanche airbag
* additional $500 single supplement at heli lodge for single room
Guests are responsible for:
Travel Insurance – highly recommended. Most past guests have been successful in insuring unused helicopter time due to weather.
Personal clothing & equipment – review the equipment list included under "Documents"
Trip insurance – we highly recommend trip insurance for all of our programs
Airfare – review the "Travel Information" under "Documents" for more details
Reviewing trip policies – please reference our policies page for policies regarding payment, cancellations, refunds and guest responsibilities.
Gratuities
Payment, Refunds & No Fly Days
All that is required to make a reservation, is a $1500 deposit which may be made with any major credit card. Payment in full is required 90 days prior to Day 1 of your trip. Payment can be made via credit card online, over the phone, or via wire transfer.
Unused Heli time: 50% of any unused hours may be rolled over as credit and applied to the subsequent season. Travel insurance is highly recommended. Past guests have had 100% success in recuperating unused helicopter time when booking travel insurance through TravelGuard. Cost is generally about 8% of total trip cost. http://alaskamountainguides.com/registration/travel-insurance/
To Book your adventure, follow the steps below:
Please call to confirm availability at 1-800-766-3396 or fill out an online form to request more information via this link:
Place a $1500 deposit to reserve your spot: this can be place over the phone by credit card, check in the mail, or through our payment gateway.
Once you've reserved your spot, you'll receive a welcome packet with all the necessary registration forms and trip information.
We kindly ask that you submit all of the necessary trip registration information at least 45 days prior to your trip.
Feel free to call or email anytime if you have questions about your upcoming trip. Our team is excited to help you prepare for your adventure!
Guest Comments:
Alaska Mountain Guides and Stellar are the best! I had so much fun during my week at the lodge and felt like guides did a great job finding runs suited to my abilities.
– Phil B.