Alaska Mountain Guides & Climbing School Inc. is based in Haines, Alaska, a small town located near the top of the Inside Passage. Haines borders Glacier Bay National Park. The park and the adjacent 27 million acres, including Wrangell-St. Elias National Park, comprise the largest protected wilderness area in the world.  The area offers incredible climbing, mountaineering, skiing, sea kayaking , hiking and rafting for a lifetime of exploration. 
We realize that many visitors coming to Alaska are looking to get a taste of the adventure that the upper Lynn Canal has to offer.  Participating in a multi-sport combination adventure is often the best way to experience the grandeur, wildlife, and scale of Alaska - from the tops of the snowy summits, to the wildlife-rich waters of the fjords.  
Search Trips
*Starting from prices, per person, in USD
Glacier Bay Traverse
Price: $5250*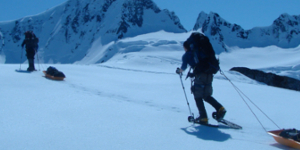 Spend 12 days kayaking among humpback whale territory, trekking over blue glacial ice, and rafting on pure glacial ice melt on this multi-sport adventure!
Destination: Glacier Bay National Park
Activity: Multi-Sport
Difficulty: 4 out of 5
Historic Klondike Route
Price: $4350*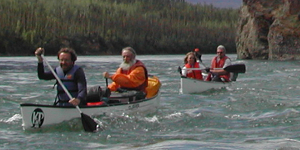 Travel in the footsteps of gold rushers from over 100 years ago. Hike the historic Chilkoot Trail, then trade hiking boots for paddles and begin the 400 miles of canoeing that will bring us to the heart of the Klondike gold country.
Destination: Chilkoot Trail & Yukon River
Activity: Multi-Sport
Difficulty: 3 out of 5
Southeast Alaska Lodge Based Adventure
Price: $4200*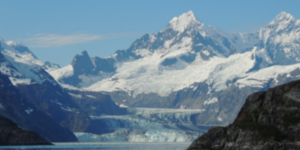 Join us on a lodge-based travel adventure of Southeast Alaska! Explore the glaciers and fjords of Glacier Bay, the rich cultural history of Haines and Klukwan, the Gold Rush history of Skagway, and the grandeur of the Yukon! Relax each night at a comfortable lodge in these unique Southeast communities.
Destination: Highlights of SE Alaska
Activity: Multi-Sport
Difficulty: 1 out of 5
Sea Kayaking & Mountaineering
Price: $2450*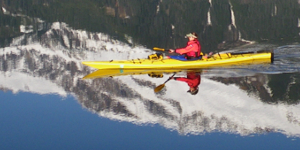 This spectacular trip combines climbing and trekking in the mountains and ice fields surrounding Haines & Skagway with sea kayaking in the fjords and inland waterways of Alaska's Inside Passage.
Destination: Mountains & Fjords of SE Alaska
Activity: Multi-Sport
Difficulty: 3 out of 5
*Starting from prices, per person, in USD