Utah & Nevada Alpine Climbing
(5 & 7 days)
The Alpine Climbing Course offers individuals the opportunity to learn and refine rock & ice climbing, and mountaineering skills. The course is designed to take skills and techniques that we have practiced and put them to use. We will attempt several climbs during the program that are intended to not only use our new skills but also to give participants confidence in their ability!
A partial list of skills covered includes: anchors, belaying, rappelling, rope management, route finding, risk/hazard assessment, and crevasse rescue. The focus of this course is developing solid climbing technique and there is ample time dedicated to climbing!
The course is conducted in the Wasatch Mountains surrounding Alta. The Wasatch Mountains are an ideal setting for this course. They boast high quality rock and ice climbing, and beautiful summits. Our low participant to instructor ratio allows us the flexibility to accommodate individual expectations; you can progress as quickly as your ambition and ability allow! No previous experience is necessary.
Highlights
ALTA: Alta Ski Resort is located in the heart of the Wasatch Mountains. These mountains receive over 500 inches of light powder every year. Alta was established as a mining town at the turn of the century and still retains the rustic character from its colorful past. Today Alta boasts some of the finest skiing on the planet, great accommodations, super restaurants and a lively atmosphere. Our climbing courses start and end here.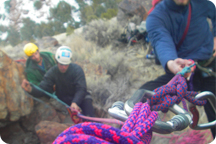 SALT LAKE CITY: Salt Lake City is easily reached by air.
GETTING TO THE MOUNTAINS: Alta can be reached via airport shuttle or we can arrange to pick you up. The first day of all trips begins with chair lift access to the high country.
THE MOUNTAINS: The Wasatch Mountains offer exceptional climbing opportunities. The clean granite makes for world class rock climbing and the cold nighttime temps and sunny days make for superb ice and snow climbing. With summits over 12,000 feet, the Wasatch Mountains offer adventure for all abilities.
OUR GUIDES: Alaska Mountain Guides & Climbing School Inc. instructors and guides are professionals. They are special individuals who have a passion for being in the mountain environment. They have a wealth of experience from guiding throughout Utah, Alaska and the world, and they genuinely enjoy sharing their knowledge. Their skill and positive attitudes help our guests to have the best possible experience during their trip. Your safety and enjoyment are their primary goals.
LENGTH: Five and Seven days, Alta to Alta.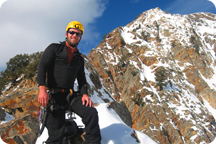 INCLUDED: All food during the trip, instructors/guides, sales taxes, and all group climbing and camping equipment.
NOT INCLUDED: Airfare to/from Utah, hotel and food in Alta, and personal equipment.
ADDITIONAL TRAVEL OPTIONS: Alta based climbing programs can easily be combined with backcountry skiing and steep ski camps. Contact us if you would like more information.
DATES/PRICES: Please see our schedule for current dates and prices information.