Utah Backpacking & Canyoneering
(3 – 12 days)
Backpacking and canyoneering trips in southern Utah are perfect for individuals seeking their first canyoneering adventure, or experienced desert travelers looking for an exciting challenge. Participants will learn canyoneering skills in a safe and fun environment and explore some of the most fascinating desert topography in the world.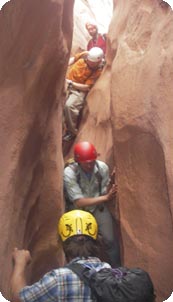 LOCATION: The landscapes of southern Utah's wilderness areas, including Glen Canyon Recreation Area, and Grand Staircase – Escalante National Monument, make for incredible exploratory adventures. Towering sandstone spires, secluded arches, technical slot canyons, and broad desert vistas make up this incredible wilderness landscape. We choose from a variety of incredible routes that explore some of the most remote reaches canyon country.
The trip starts and ends in Salt Lake City.
ACTIVITIES: These multi-day trips focus on safely exploring desert canyon country. While our exact itinerary may vary due to weather, conditions, goals and abilities, here are some components that AMG canyoneering trips focus on:
Wilderness backcountry travel in canyon country
Explore technical slot canyons
River Crossings
Slot Canyon Safety
Pothole Escapes
Rapelling Instruction
Ascending Instruction
CANYON COUNTRY: Within Glen Canyon National Recreation Area and Grand Staircase – Escalante National Monument lie some of the most alluring desert landscapes on the planet. The delicate ecosystem of the southwest hosts an abundance of wildlife.
OUR GUIDES: Alaska Mountain Guides & Climbing School Inc. instructors and guides are professionals. They are special individuals who have a passion for being in the desert canyon environment. They have a wealth of experience from guiding throughout Utah, Alaska and the world, and they genuinely enjoy sharing their knowledge. Their skill and positive attitudes help our guests to have the best possible experience during their trip.
Your safety and enjoyment are their primary goals.
Our low guide to client ratio allows us the flexibility to accommodate individual goals and expectations.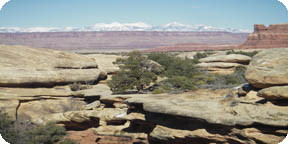 LENGTH: Backpacking and Canyoneering trips are available in 3, 5, 7, and 12-day lengths.
INCLUDED: All food during the trip, instructors/guides, and all group canyoneering and camping equipment.
NOT INCLUDED: Airfare to/from Salt Lake City, hotel and food in town, sales taxes and personal equipment.
ADDITIONAL TRAVEL OPTIONS: Canyoneering programs can easily be combined with backcountry skiing, mountaineering, rock or ice climbing.
DATES/PRICES: Please see our schedule for current dates and prices information.