Mt. Rainier (14,410′)
(5 days)
Mount Rainier is the highest volcano and the most heavily glaciated peak in the contiguous United States. At 14,410 feet, the peak rises 9,000 feet from trailhead to summit. The mountain's slopes are the ideal training ground for learning the basics of mountaineering or preparing for future expeditions to high peaks around the world. Its broad sweeping glaciers descend from the summit and climbers enjoy impressive views of the surrounding lowlands.
The 5-day course is designed to provide aspiring mountaineers with the technical skills for basic mountaineering, an understanding of altitude and acclimatization, and an exciting summit climb to over 14,000 feet. It allows for good acclimatization and a high overall success rate of reaching the summit.
Some of the skills you will learn during the 5-day course include: self-arrest, cramponing, winter camping techniques, rope team travel, belaying, snow anchors, crevasse rescue, and altitude considerations.
Highlights
MT. RAINIER NATIONAL PARK: Mount Rainier is an active Cascade volcano encased in over 35 square miles of snow and glacial ice. The 14,410′ mountain is surrounded by lush old growth forests, spectacular subalpine meadows and a National Historic Landmark District that showcases the "NPS Rustic" style architecture of the 1920s and 1930s.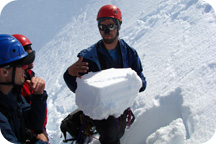 ITINERARIES & ALTITUDE: Our itineraries include ample time for rest and acclimatization days. They are designed to provide participants with a positive high altitude experience!
Day 0 – Seattle, Washington is the starting/finishing place for the trip. We will meet in the evening the day before the climb to go over personal gear, talk about expectations for the trip, and discuss the specifics of the itinerary.
Day 1 – Seattle to Paradise (5,400ft). From Paradise we'll hike up to the base of Muir snowfield at 8,000 ft and set up our first camp.
Day 2 – We'll move up the Muir snowfield and establish camp at Camp Muir at 10,200ft. If time permits, we will cover mountaineering skills in the afternoon.
Day 3 – Camp Muir – We will go over rope team travel, anchors, belaying, crevasse rescue, and other mountaineering essentials in preparation for our summit bid.
Day 4 – Summit attempt – Days 3 and 4 are interchangeable and we'll shoot for the summit via the Disappointment Cleaver route when we have the best weather window.
Day 5 – Descend to Paradise and return to Seattle in the evening. Plan on departing Seattle the next day.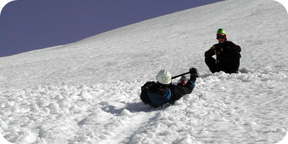 OUR GUIDES: Alaska Mountain Guides & Climbing School Inc. instructors and guides are professionals. They are special individuals who have a passion for being in the mountain environment. They bring a wealth of experience from guiding throughout Alaska, and the world, to every trip. Their skill and positive attitudes help our guests to have the best possible experience during their trip. All of our guides are also professional climbing instructors who genuinely enjoy sharing their knowledge. This is an important consideration for individuals who have not spent a lot of time at altitude and are interested in learning the safest, and most efficient ways to climb.
INCLUDED: All food during the trip, instructors/guides, round trip transportation Seattle to Seattle, and all group climbing and camping equipment.
NOT INCLUDED: Airfare to/from Seattle, hotel and food in Seattle before and after trip, personal equipment, and sales tax.
LENGTH: 5 days
DATES/PRICES: Please see our schedule for current dates and prices information.