Glacier Bay Escape
(5 days)
Rotator powered by EasyRotator for WordPress, a free and easy jQuery slider builder from DWUser.com. Please enable JavaScript to view.
This Glacier Bay sea kayaking trip explores the famous West Arm of Glacier Bay; the premier sea kayak destination in Alaska.
John Muir came to Glacier Bay in 1879 and was so stunned by its epic beauty that immediately upon his return he began to secure wilderness protection for this spectacular region he called "unspeakably pure and sublime". Come join us as we retrace the famous naturalist's route, and observe how the dynamic world of the bay changes continuously as receding glaciers reveal new landscapes.
Glacier Bay's fascinating geology, plentiful wildlife (including the endangered humpback whale), and breathtaking scenery of soaring mountains and gorgeous tidewater glaciers are the setting for an unforgettable wilderness sea kayaking experience. On this trip you'll enjoy a relaxed exploration of Glacier Bay National Park's scenic West Arm, including the pristine wilderness of John Hopkins Inlet. You'll start with a charter boat trip across the lower bay, then after a drop-off on a remote glacial beach, spend the next few days kayaking and camping amidst awesome mountain scenery and stunning tidewater glaciers, and taking short hikes to observe some of the interesting geological and biological processes so evident in Glacier Bay. You'll watch for wildlife on both land and sea, learn about the fascinating natural and cultural history of the bay, and see land recently unveiled by retreating ice thousands of years old. This is one of our most popular and active trips, where expectations are always exceeded.
Highlights
* Paddle around icebergs and hike to the face of awesome tidewater glaciers

* Scenic boat tour of the West Arm of Glacier Bay, with ample opportunities for wildlife viewing
* Wilderness camping in Glacier Bay National Park's West Arm
Itinerary
Day 0: Meet in Gustavus for a pre-trip orientation. Lodging and meals on your own.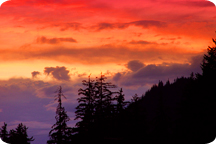 Day 1: Board a boat for a spectacular ride into the West Arm of Glacier Bay National Park. The scenery changes dramatically as we leave the lush forests of Bartlett Cove behind and enter a land still under the influence of the Little Ice Age. We'll be dropped off in the remote upper West Arm, where we'll unload gear and have a kayak lesson.
Days 2 – 4: Explore the pristine upper fjords of Glacier Bay by kayak and on foot. Keep your camera ready for dramatic scenery of awe-inspiring mountain peaks and calving glaciers (you'll listen to them thunder, crackle, and pop as huge icebergs topple into the
sea!), and wildlife that may include brown bears, mountain goats, humpback whales, orcas, sea otters, and a variety of sea birds. A flexible itinerary allows for fabulous hikes and serene paddles. You may explore Reid, Lamplugh, and John Hopkins Glaciers, each with its own stunning beauty and personality.
Day 5: Following a morning hike or paddle, a charter boat transfer takes the group back to Gustavus. Fly to Juneau and depart.
DATES/PRICES: Please see our schedule for current dates and prices information.