Alaska Rock Climbing
(1/2 – 5 days)
These trips emphasize developing individual climbing technique and skills. They are based on a hands-on approach and are conducted in an amazing alpine setting. Towering peaks and glaciers provide a spectacular backdrop, and great terrain to develop climbing skills. These programs provide an excellent introduction to rock climbing for beginners and advanced climbers alike. Our low client to guide ratio allows us the flexibility to accommodate individual goals and expectations. No previous experience necessary. All climbing equipment is provided.
Highlights
SKAGWAY: Skagway, Alaska is the starting/finishing place for this trip. Skagway is a small community located at the top of the inside passage. Surrounded on three sides by steep mountains, our rock climbing adventures take us high up to beautiful views of the surrounding Alaskan wilderness.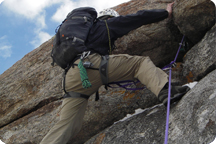 GETTING TO THE CLIMBS: We will provide transportation for downtown Skagway to our rock climbing sites. These sites offer excellent opportunities for individuals to try rock climbing for the first time or challenge themselves on the hardest climbs.
THE MOUNTAINS: Skagway borders Glacier Bay National Park The Park and the adjacent 27 million acres comprise the largest protected wilderness area on the planet. It is a heavily glaciated landscape containing several of the largest non-polar ice caps in the world. The climbing here is truly spectacular!
OUR GUIDES: Alaska Mountain Guides & Climbing School Inc. instructors and guides are professionals. They bring a wealth of experience from guiding throughout Alaska, and the world, to every trip. All of our guides are also climbing instructors who genuinely enjoy sharing their knowledge. Their skill and experience insure our guests the best possible experience during their trip. Your safety and enjoyment are their primary goals.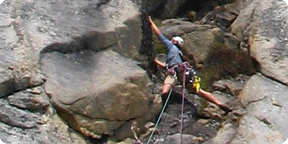 INCLUDED: Ground Transportation to the climbing site in Skagway, all food during the trip, guides, and all group climbing equipment.
NOT INCLUDED: Airfare/Transportation to/from Skagway, hotel and food in Skagway.
ADDITIONAL TRAVEL OPTIONS: Skagway based trips have the option of including rafting, sea kayaking, and mountain bike trips. Please contact us if you would like any further information.
DATES/PRICES: Please see our schedule for current dates and prices information.