The Best of Alaska
(7 days)
Nothing evokes Alaska like a whale exploding out of the water or a Bald Eagle pulling a silver salmon from the river. Combine these images with towering mountains, brilliant icebergs, spectacular glaciers, The White Pass Yukon Route Railway, totem pole carvers, luxurious accommodations and scrumptious meals and you really do have the Best of Alaska!
Join us for an unforgettable 7-day excursion to the last frontier! Additional highlights include: a scenic flight over Glacier Bay National Park, a rafting trip through the heart of the Chilkat Bald Eagle Preserve, historic Skagway, an aerial tram ride, a whale watching cruise and the company of knowledgeable local guides.
Highlights
JUNEAU: Juneau, the state capital, is rich in culture, history and scenic beauty. It is here that we start and end our trip.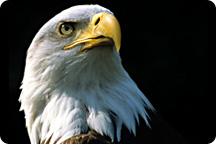 HAINES: Haines is a small community located along the fjords at the top of the Inside Passage. The natural beauty and expansive wilderness found here have cemented Haines' reputation as a premier center for adventure in Alaska. In 2004, Haines was listed by Outside Magazine and National Geographic Adventure as one of the best places for recreation and living. The activities listed below are located in Haines.
RAFTING IN THE CHILKAT BALD EAGLE PRESERVE: This half-day float trip takes us through the heart of this incredible preserve that is home to the world's largest gathering of bald eagles. Over 3000 eagles spend the fall here gorging on salmon. In addition to the eagles, in the summer, this scenic float trip offers a chance to see bears, moose and wolves.
ALASKA INDIAN ARTS: Alaska Indian Arts is a nonprofit corporation dedicated to the preservation and continuation of traditional native craft and culture of the Northwest Native Tribes. Alaska Indian Arts is also the headquarters for several of Alaska's outstanding craftsmen and artisans. We spend a few hours learning totem pole carving, native beading and culture from these master artists.
SMOKED SALMON FACILITY: Touring the local salmon smokery provides you the opportunity to sample some of the best tasting smoked halibut and wild Alaskan salmon in the state.
SKAGWAY: Skagway is famous for its role in the Klondike Gold Stampede over 100 years ago. Today, it is a historic yet lively town, which still reflects its gold rush roots and contains colorful shops and a fun atmosphere. In Skagway, we stop by the Klondike Gold Rush National Park Visitor's Center and ride the White Pass Yukon Route Railway.
WHITE PASS YUKON ROUTE RAILWAY: This narrow gauge railroad was built in 1898 during the Klondike Gold Rush. It is an international historic civil engineering landmark–a designation shared with the Panama Canal, the Eiffel Tower and the Statue of Liberty. We will take a three and a half hour, fully narrated ride to the top of White Pass. Dramatic waterfalls, bridges, trestles, tunnels and historic sites abound during this unique experience.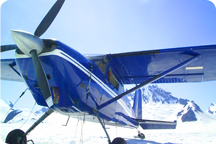 SCENIC FLIGHT: The one hour scenic flight departs from Haines and soars over the Chilkat Mountains and Glacier Bay to arrive in Gustavous. This flight over the world's largest non-polar ice cap is one of the most awe-inspiring experiences available in Alaska.
GUSTAVUS: Gustavus is the gateway to Glacier Bay National Park. We will stay at a comfortable lodge here for 2 nights. This will be the base for both the whale-watching excursion and a full day cruise in Glacier Bay.
GLACIER BAY: Glacier Bay is a United Nations' world heritage site, which is recognized as a natural habitat of significant biodiversity that has been set aside for conservation. Our tour of the bay will include tidewater glaciers, huge icebergs, abundant wildlife and towering mountains.
WHALES: We depart Gustavous for our whale-watching trip in a charter vessel that takes us into Icy Straights and Point Adolphus. This is a very popular spot for Humpback and Orca whales, seals, sea lion, salmon, eagles and waterfowl to congregate. Whales are so abundant in this area we guarantee sightings.
MT. ROBERTS AERIAL TRAM: The tram departs from downtown Juneau and delivers guests to a viewing platform 1800 feet above the city. Surrounded by panoramic views, we are able to enjoy the Chilkat Theater, Timberline Bar & Grill, Raven Eagle Gifts and impressive displays of Native artwork. Native artists are often featured working on their art here. As one of Juneau's most popular attractions, a tram ride to the top of Mount Roberts provides stunning photo opportunities and a chance to learn about the area's rich Native culture. We enjoy lunch here on day six.
WILDLIFE: Wildlife in Alaska is abundant. We have ample opportunity to scout for whales, seals, sea lions, salmon, eagles, water fowl, black and brown bears, wolves, moose, and more.
FREE TIME: Each day, after the various excursions, there is free time for shopping, exploring, and simply sitting back and taking in the scenery.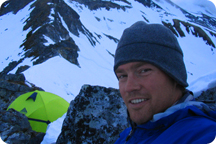 OUR GUIDES: Alaska Mountain Guides & Climbing School Inc. instructors and guides are professionals. They are special individuals who have a passion for being in a wilderness environment. They possess a wealth of experience gained from guiding throughout Alaska and the world. They genuinely enjoy sharing their knowledge. Their skills and positive attitudes help our guests to have the best possible experience during their trip. Your safety and enjoyment are their primary goals.
LENGTH: Seven days, Juneau to Juneau.
INCLUDED: Lodging on day one through day six, all meals, excursions, guides, park fees, sales taxes, and transportation between Juneau, Skagway, Haines, and Gustavous.
NOT INCLUDED: Alcohol, personal items, airfare to and from Juneau.
Itinerary:
Day 1- We will meet in Juneau for orientation dinner at a downtown hotel.
Day 2- We will take the Alaska Marine Highway Fast ferry to Haines for ½ day float trip through the Chilkat Bald Eagle Preserve, afternoon with totem pole carvers and visits to the Salmon Smoking facility and local galleries.
Day 3- We will take a private fast ferry to Skagway for the ride on the White Pass Yukon Route Railway, gold rush presentation at National Park Service headquarters. Evening in Haines.
Day 4- We will take a scenic flight over Glacier Bay to Gustavous with an afternoon, 3.5-hour whale watching tour.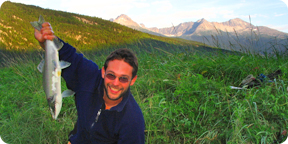 Day 5- We will take at full day Glacier Bay cruise with onboard naturalist. Meals will be taken on board.
Day 6- We will take a mid-morning scenic flight back to Juneau, and enjoy an afternoon aerial tram ride. We will have a farewell dinner at our favorite restaurant.
Day 7- After breakfast at our hotel and we will catch flights home.
Travel Details
We will meet for an orientation and dinner at the Prospector Hotel at 6:00 PM on the first day of the trip.
www.prospectorhotel.com 375 Whittier Street ~ Juneau, Alaska ~ 99801-1781
800.331.2711 (US and Hawaii) ~ 907.586.3737 (Alaska)
Air Service: Juneau is accessible via Alaska Airlines (800) 252-7522 www.alaskaair.com
Ferry Service: The Alaska Marine Highway operates ferries to Juneau from Bellingham, Skagway and all other ports.
Call (800) 642-0066 http://www.dot.state.ak.us/amhs/
DATES/PRICES: Please see our schedule for current dates and prices information.