Sea Kayaking & Mountaineering
(10 days)
This spectacular trip combines climbing and trekking in the mountains and ice fields surrounding Glacier Bay National Park with sea kayaking in the fjords and inland waterways of Alaska's Inside Passage. We'll learn and explore amidst some of the most striking landscapes in North America. No previous experience is necessary to participate in this program. Any experience that you have will allow you to progress more quickly to advanced skills. Small groups and low instructor/student ratios make it possible to meet individual expectations.
The goal is to learn new skills and play along the way! The mountaineering portion of this trip is patterned after our 5-Day Program. It provides a solid introduction to safe mountaineering, and outstanding summit climbs! Once down from the mountains, we have one night in Haines to exchange ice axes for paddles.
The following morning we begin a sea kayak journey where skills will be taught experientially during the course of the five-day trip. Our paddling time will begin with establishing solid skills and developing an understanding of the marine environment. Paddling through the diverse seascapes of giant fjords, the group will meander by jagged cliffs and rocky shores, enjoy sandy beaches, and explore grassy estuaries, and uninhabited islands. We'll learn first hand about paddling in wind and waves, the effects of tides and currents, and safe techniques for surf launches and landings. Also included will be instruction on navigation and route finding, self and assisted rescues, surfing, sailing, braces, and even the option to try rolling the kayak (dry suits will be provided). Fun and learning by day followed by camping (minimum impact) and laughter around the fire at night!
Highlights
HAINES: Haines Alaska is the starting/finishing place for this course. Haines is a small community located along the majestic fjords at the top of the Inside Passage. The natural beauty and wilderness access in Haines have given it the much-deserved reputation as a center for wilderness adventure in Southern Alaska.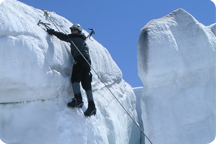 GETTING TO THE MOUNTAINS: Depending on weather and route conditions a variety of modes for transportation are available. We utilize ski planes, snowcats, 4 wheel drive vehicles and sea worthy boats to ensure that travel into the mountains is safe and efficient.
THE MOUNTAINS: Haines borders Glacier Bay National Park The Park and the adjacent 27 million acres comprise the largest protected wilderness area on the planet. It is a heavily glaciated landscape containing several of the largest non-polar ice caps in the world. This terrain is uniquely suited to learning mountaineering skills, and the climbing here is truly spectacular!
SEA KAYAKING: Our sea kayaking programs are based in Haines. They focus on quality paddling time, and allow us to visit some of the Inside Passage's most beautiful places.
OUR GUIDES: Alaska Mountain Guides & Climbing School Inc. instructors and guides are professionals. They bring a wealth of experience from guiding throughout Alaska and the world, and they genuinely enjoy sharing their knowledge. Their skill and experience insure our guests the best possible experience during their trip. Your safety and enjoyment are their primary goals.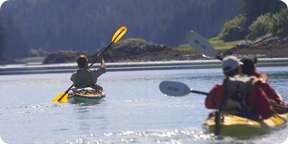 INCLUDED: Ski plane flights and ground transportation in Haines, all food during the trip, guides, and all group climbing, sea kayaking, and camping equipment.
NOT INCLUDED: Airfare to/from Haines, hotel and food in Haines and between segments, and personal equipment.
LENGTH: 10 days total: five days mountaineering and five days sea kayaking with one night between in the Mountain View Lodge. We also offer a seven-day version of this trip. Please contact us if you would like more information on our sea kayaking programs.
ADDITIONAL TRAVEL OPTIONS: Haines based trips have the option of rafting, and mountain bike trips. Sea kayak and mountain bike rental are also available. Contact us if you would like more information.
DATES/PRICES: Please see our schedule for current dates and prices information.