Alaska Adventure Safari
(7 days) – Glacier Hiking, Sea Kayaking, Rafting, and Mountain Biking
In 2004, both National Geographic Adventure and Outside Magazine named Haines as one of the top recreation towns in the United States. Let us show you why. Travel with us by foot, raft, sea kayak and mountain bike as we explore the diverse landscapes of southeast Alaska and the Yukon Territory. Our travels take us rafting on a spectacular class III river in the Yukon, sea kayaking on the pristine waters of the Inside Passage, trekking on glaciers, mountain biking through alpine tundra in British Columbia and hiking along the coast of Alaska. All of these unique adventures are but a few hours away from our base in Haines, Alaska.
Each leg of our adventure lasts for one full day. In the evening, we will return to Haines for a comfortable night in the Halsingland–a local Bed and Breakfast. Each morning, you'll be picked up for your next expedition. No experience is necessary and all equipment is provided for each segment.
Highlights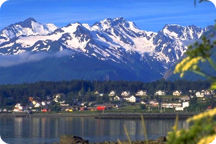 HAINES: Haines is a small community located along the fjords at the top of the Inside Passage. The natural beauty and expansive wilderness found here have cemented Haines' reputation as a premier center for adventure in Alaska.
WHITE WATER RAFTING IN THE YUKON: This class 3/4-whitewater trip offers paddlers a chance to enjoy fun rapids while experiencing the beauty of the Yukon Territory. The trip begins in Haines where we meet and take the 1.5-hour drive over the Chilkat Pass into Canada. After donning wetsuits and life jackets, our experienced guides offer instruction on paddling and river safety. Soon, we splash our way downstream. The Blanchard River starts with a series of gentle drops that allow paddlers time to practice before the Blanchard converges with the Tatshenshini. The Tatshenshini is a large volume river where you can test your newfound skills in the Boulder Garden, C to C, and Twin Holes rapids. After these rapids, we have a few miles of calm water before we arrive at our destination–historic Dalton Post. At Dalton Post, we are met by our shuttle. We change into our dry clothes and have a snack before returning to Haines.
WILDERNESS SEA KAYAKING: Haines offers excellent kayaking for beginners and experts alike. Our guides are trained naturalists and excellent instructors who enjoy sharing their knowledge of the area. They offer expert instruction tailored specifically for your level of experience. Inexperienced paddlers are quickly at ease in the stable kayaks, while experienced paddlers are immediately at home in these efficient touring crafts. Wildlife in this area is abundant. Kayakers have the opportunity to see many different animals while paddling, including; Humpback and Orca whales, sea otters, sea lions, seals, salmon, eagles, waterfowl, bears, wolves, moose and more.
CHILKAT PASS MOUNTAIN BIKING: This trip begins with a drive up the Chilkat Valley through the world famous Chilkat Bald Eagle Preserve. After we clear Canadian Customs and enter British Columbia, we enter the Tatshenshini/Alsek Provincial Wilderness Park. In 1993, this park became the largest protected wilderness area in the world. Our ride starts on an old mining road winding behind the ice covered mountain range. Here we are provided with all the biking accessories including a Trek mountain bike for this moderately strenuous ride. The route leads past azure glaciers, jagged peaks, and vast fields of wildflowers. Lunch is enjoyed while watching for golden eagles and other wildlife before looping back around to our shuttle vehicle.
HIKING IN HAINES: The Seduction Point wilderness hike is a great hiking trip that can be done as a half or a full day depending on the wishes of the individual. The full day trip is 6 miles of level walking through old growth forest along the beach. This hike offers stunning views in all directions including hanging glaciers, towering peaks and pristine beaches. . The half-day trip is 3 miles to a beautiful beach. Here we will have lunch and scan the water for whales, seals, and eagles diving for salmon. Multiple guides make either of these options available to each guest.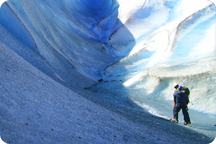 GLACIER TREKKING: The Davidson Glacier extends from the Lynn Canal into Glacier Bay National Park. A short boat ride from Haines followed by a motorized canoe trip across a glacial lake brings us to the Davidson Glacier. The Davidson offers tremendous views of towering ice walls, breathtaking icebergs and a calm glacial lake. Once on the ice, our guides instruct you on how to use all the trekking equipment–plastic boots, crampons and ice axes. Then, we walk on the brilliant sapphire blue ice and explore the ridges and valleys of this slow moving river of ice. We spend most of the day here before returning to Haines for the evening.
WILDLIFE: Wildlife in Alaska is abundant. We have ample opportunity to scout for whales, seals, sea lions, salmon, eagles, water fowl, black and brown bears, wolves, moose, and many more.
FREE TIME: Each day, after the various excursions, there is free time for shopping, exploring, and simply sitting back and taking in the scenery.
MEALS: All meals are included. Alcohol is not included.
OUR GUIDES: Alaska Mountain Guides & Climbing School Inc. instructors and guides are professionals. They are special individuals who have a passion for a wilderness environment. They possess a wealth of experience gained from guiding throughout Alaska and the world and they genuinely enjoy sharing their experiences and knowledge. Their skills and positive attitudes help our guests to have the best possible experience during their trip. Your safety and enjoyment are their primary goals.
LENGTH: Seven days Juneau to Juneau.
INCLUDED: Lodging on day one through day six, all meals, excursions, guides, park fees, sales taxes, and transportation between Juneau, Skagway, Haines, and Gustavus.
NOT INCLUDED: Alcohol, personal items, airfare to and from Juneau.
Itinerary:
Day 1- Meet in Juneau for orientation dinner at a downtown hotel.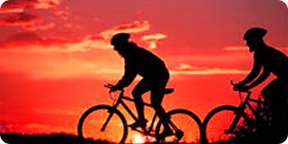 Day 2- Ferry to Haines and sea kayaking in the Chilkat Island Marine Park. Evening at B&B.
Day 3- Ski Plane flight to Upper Davidson Glacier for a day of glacier trekking (crampons, ice axes and plastic boots provided). Evening at B&B.
Day 4- Travel into the Yukon Territory for a day of whitewater rafting. Evening at B&B.
Day 5- Day of mountain biking in the alpine tundra on the Chilkat Pass. Evening at B&B.
Day 6- Day hiking on local trails near Haines. Farewell dinner at our favorite restaurant. Evening at the B&B.
Day 7- Fast ferry to Juneau and flights home.
DATES/PRICES: Please see our schedule for current dates and prices information.