(22 days)
Join Alaska Mountain Guides & Climbing School Inc for an expedition to the highest mountain in North America. Denali is frequently considered to be America's most classic climb, and with the greatest vertical relief on the planet (18,000 ft) it is definitely world-class. Our route follows the West Buttress, which is not technically difficult, but weather and altitude make it demanding. The climb is as rewarding as it is challenging; fantastic views of the Alaska Range, active participation as an expedition member, and a strong sense of personal accomplishment all combine to make Denali an incredible mountaineering experience. Technical climbs of the West Rib are also available. Please contact us if you have any questions, or, if you would like any additional information.
Highlights
ANCHORAGE: Anchorage, Alaska is the starting/finishing place for this trip.
TALKEETNA: Talkeetna is the colorful small town that is our base for flying into and out of the mountain.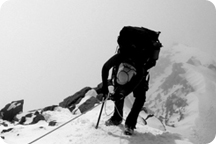 GETTING TO THE MOUNTAINS: We use ski planes to access the Kahiltna glacier, our starting point on the mountain.
THE MOUNTAIN: Denali is one of the most sought after high altitude climbs in the world. It is a demanding snow and ice climb to over 20,000 feet that involves the continuous use of roped travel and winter camping skills. The route uses four camps minimum, with a high camp located at an elevation of 17,200 feet. Summit day will be between 8 and 14 hours. Bring your camera for the phenomenal views of Mt Foraker, Mt Huntington, Mt Hunter, and the Alaska Range!
OUR GUIDES: Alaska Mountain Guides & Climbing School Inc. instructors and guides are professionals. They are exceptional individuals who have a passion for being in the mountain environment. They have a wealth of experience from guiding throughout the world, and they are experts on climbing in Alaska. All of our staff genuinely enjoy sharing their knowledge. Their skill and positive attitudes help our guests to have the best possible experience during their trip. Your safety, success, and enjoyment are their primary goals.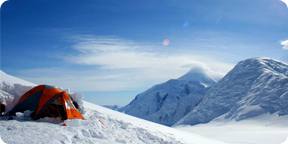 LENGTH: The trip takes 22 days from Anchorage to Anchorage. Participants should schedule their return travel arrangements no earlier than 22 days after their trips starting date. This schedule is designed to provide individuals with a positive high altitude experience. It allows ample time for weather, rest, and acclimatization days, which are critical to having a safe and successful climb.
TRAINING PROGRAMS-REQUISITE EXPERIENCE: Alaska Mountain Guides & Climbing School Inc. offers several outstanding Denali preparation courses. Please contact our office for more information on training programs and requisite experience levels for climbing Denali.
INCLUDED: Ski plane flights, ground transportation from Anchorage to Talkeetna and back, all food during the trip, instructors/guides, and all group climbing and camping equipment (tents, stoves, etc.).
NOT INCLUDED: Airfare to/from Anchorage, meals and lodging in Anchorage and Talkeetna, personal equipment, $500 N.P.S. fee, trip insurance (highly recommended), and costs associated with weather delays.
DATES/PRICES: Please see our schedule for current dates and prices information.
LOGISTICS PACKAGES: Detailed logistics packages will be sent out upon the receipt of trip application forms.
***Denali expeditions operate in conjunction with Mt. Trip, a licensed concessionaire of Denali National Park.