Alaska & Yukon Introduction to Mountaineering
(2, 3 & 5 days)
These courses are designed as a hands-on introduction to safe mountaineering. We spend the days moving through the mountains and across massive glaciers, plunging ourselves into a world of jagged peaks and brilliant blue icefalls.
Our trip begins with a spectacular ski plane flight into the mountains. After we establish a camp we will begin to learn crampon, ice axe, and rope team skills. Training in avalanche awareness, anchor techniques, belaying, crevasse rescue, navigation, and hazard/risk assessment are covered as you gain experience. Conditions permitting we will then put your new skills to use climbing some spectacular Alaskan peaks.
The two-day mountaineering course gives participants a fun, instructional, introduction to climbing in the mountains while the longer courses allow for the practical application of your new skills. Our philosophy is one of learn by doing. Small groups and a low participant to instructor ratio give us the flexibility to accommodate individual goals and expectations. No previous experience is necessary.
Hi Sean and Darsie,

Thanks for your beginning mountaineering course the last week of July with Eli, Robbie, and Rachel. They were SO patient and compassionate with me. To be out there on the glacier was an amazing experience for me. I got a lot out of it, in ways I didn't expect! All 3 of them are exceptional people and I was lucky to have them be the ones who introduced me to this 'sport' (though it seems more like a frame of mind!).

Thanks again,

Trish M.
Highlights
HAINES: Haines Alaska is the starting/finishing place for this course. Haines is a small community located along the beautiful fjords at the top of the Inside Passage.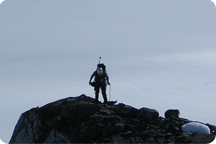 GETTING TO THE MOUNTAINS: Depending on weather and route conditions a variety of modes for transportation are available. We utilize ski planes, snowcats, 4 wheel drive vehicles and sea worthy boats to ensure that travel into the mountains is safe and efficient.
THE MOUNTAINS: Haines borders Glacier Bay National Park The Park and the adjacent 27 million acres comprise the largest protected wilderness area on the planet.
It is a heavily glaciated landscape containing several of the largest non-polar ice caps in the world. This terrain is uniquely suited to learning mountaineering skills, and the climbing here is truly spectacular!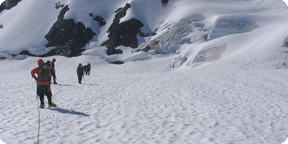 OUR GUIDES:Alaska Mountain Guides & Climbing School Inc. instructors and guides are professionals. Their skill and experience insure our guests the best possible experience during their trip. Your safety and enjoyment are their primary goals.
INCLUDED: Ski plane flights and ground transportation in Haines, all food during the trip, guides, and all group climbing and camping equipment.
NOT INCLUDED: Airfare to/from Haines, lodging and meal in Haines, and personal equipment.
DATES/PRICES: Please see our schedule for current dates and prices information.