Rock Climbing
(~4.5 Hours)
Join Professional Mountain Guides for an exciting climbing adventure on the smooth granite walls of the White Pass. There are great climbs for all abilities and no experience is necessary. This adventure begins with a short interpretative drive in your private van through downtown Skagway and up the Klondike Highway. From the highway we hike for a few moments to the base of majestic rock cliffs recently smoothed by retreating glaciers. Here we will don rock climbing shoes, helmets and harnesses. After a climbing introduction from your guide we will rope up and start climbing the clean granite.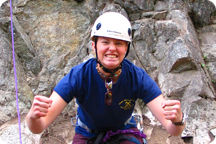 There are more than a dozen routes to choose from. Some climbs are very easy and others offer more challenge. Each ends with a stunning aerial view of the Skagway River, The White Pass Yukon Route Railway, and the surrounding wilderness. Participants will have the chance to climb on the excellent rock and also try rappelling on the high cliffs. Professional mountain guides will share their knowledge and skill in all aspects of climbing.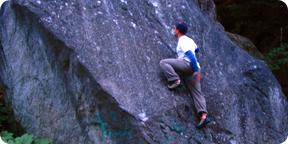 Your safety and enjoyment are always their primary concern. This adventure is perfect for those looking for their first climbing experience, or for experienced climbers looking for a challenge. No climbing is required and everyone will enjoy the cliffside snack, and stunning views. Participants need to be able to hike for a few minutes over uneven terrain, and should dress in warm clothing that allows for good flexibility.
NOTES: Trip includes transportation in Skagway, Historic town tour, expert guide, all equipment, & a delicious snack.
DATES/PRICES: Please see our schedule for current dates and prices information.