Haines Wilderness Hiking
(~6 Hours)
This spectacular hiking adventure immerses you in the incredible beauty of wild Alaska! You will have the opportunity to see amazing blue glaciers, breathtaking waterfalls, and majestic flora and fauna! Your adventure begins with a high-speed catamaran ride from Skagway to Haines while your guide describes the area's natural history, geology, and native culture. Marine life abounds and sightings of eagles, seals, sea lion and whales are common.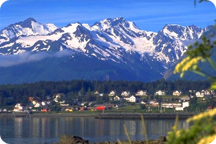 Once in Haines, you will be transported to the trailhead and treated to a fascinating town tour including National Historic Landmark Fort Seward and the parade grounds. Your guide will regale you with the interesting history and culture of Haines including discussion on both the gold rush and chronicles of the native Tlingits. Once at the trailhead you will receive a brief safety orientation and then it's off to enjoy the breath-taking scenery that Alaska is famous for!
NOTES: Trip includes R/T Fast Ferry from Skagway to Haines, transportation in Haines, Historic Haines town tour, expert guide, all equipment, group binoculars, & a delicious snack. The exact hiking location may vary with weather and route conditions.
The next 2.5 hours you will be surrounded with amazing mountains, glaciers, rivers, and fabulous wildlife. There are frequent sightings of whales, otters, eagles, bears, moose, and more. Each departure is outfitted with several pairs of binoculars to maximize your opportunities to get up and close with the wildlife and the spectacular mountain and river views.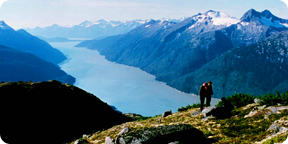 After your fabulous hiking experience you will be transported back to the Fast Ferry and on to Skagway. While onboard you will be served a delicious snack and be treated to additional details on Alaska and the surrounding beauty of the Lynn Canal.
This is a great family experience and kids are welcome. Don't forget to bring your camera!!
DATES/PRICES: Please see our schedule for current dates and prices information.