Tsirku River Rafting Overnight Trip
(2 Day)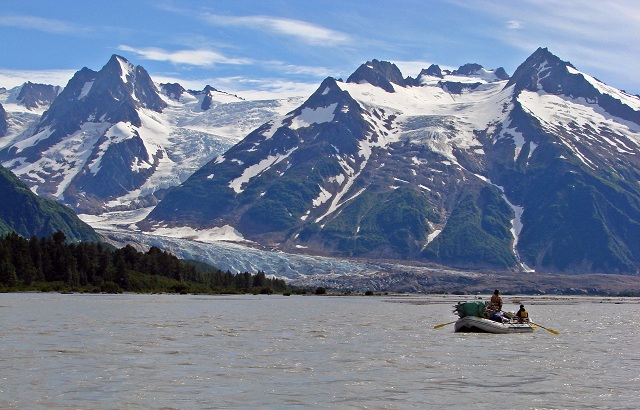 Join Alaska Mountain Guides for a spectacular wilderness river trip for two days on the Tsirku River. Located just outside of Haines, Alaska, It's waters drain from the largest non-polar ice cap and largest protected wilderness area on the planet. Glaciers descend dramatically from over 7,000 feet to the valley floor in this majestic wilderness valley. There are opportunities to see abundant wildlife including bears, moose, wolves, bald eagles and to explore the Le Blondeau glacier within a short hike from our comfortable camp.
We'll meet up in Haines the evening prior to the trip, to go over personal equipment and answer any last minute questions. The following morning we'll drive about an hour to our put in and head up the Tsirku River about 12 miles via air boat. Depending on conditions, we may also fly in via bush plane to the upper Tsirku. After arriving at the remote wilderness camp, we'll set out to explore the glacier, river and enjoy the scenery.
The following morning, we'll break down camp, load up the 16 foot oar rafts, and head down the Tsirku River. The first 5 miles passes underneath towering peaks and a series of glaciers descending nearly to the river's edge. After some fun rapids, we'll stop and enjoy lunch alongside the braided river.
After about 15 miles, we come to the confluence of the Tsirku, Klehini and Chilkat Rivers and the Chilkat Bald Eagle Preserve. The preserve was established to protect and perpetuate the world's largest concentration of Bald Eagles and their critical habitat. These three rivers form a broad delta, home to Klukwan, the mother village of the Tlingit Nation. We'll continue for a few more miles at a relaxed pace to our take out on the Chilkat river. From the take out, it's a an hour drive back to Haines.
Our overnight Tsirku rafting trip is an exciting journey into the heart of Alaska's glaciated mountain wilderness. No experience is necessary. It is a fun trip with experienced and knowledgeable guides in one of most pristine and scenic locations in Southeast Alaska.
RAFTING INFORMATION
HAINES: Haines Alaska is the starting/finishing place for this trip. Haines is a small community located along the fjords at the top of the Inside Passage. The natural beauty and wilderness access found here are responsible for Haines' reputation as a center for wilderness adventure in Alaska.
TRANSPORTATION: After meeting in Haines, we will drive in Private Vans up the Haines Highway for about an hour to our put in. From the put in, we'll take an airboat up to the headwaters of the Tsirku. We may also use a small plane to fly into an airstrip to this remote area. The following day, we'll raft down the Tsirku and Chilkat Rivers of to a take out, and then drive about 30 minutes back to Haines in the late afternoon.
THE RIVERS:  Generally, we'll be on the water for 6-8 hours. The river begins with some Class II rapids and a slightly steeper gradient. The river slows down slightly as it joins Chilkat River and the Bald Eagle preserve.
OUR GUIDES: Alaska Mountain Guides & Climbing School Inc. instructors and guides are professionals. They are special individuals who have a passion for being on the river. They have a wealth of experience from guiding throughout Alaska and the world, and they genuinely enjoy sharing their knowledge. Their skill and positive attitudes help our guests to have the best possible experience during their trip. Your safety and enjoyment are their primary goals.
LENGTH: Two days Haines to Haines.
INCLUDED: Transportation to and from Haines, food during the trip, instructors/guides, a dry bag for some odds and ends, and all group rafting and camping equipment.
NOT INCLUDED: Airfare to/from Haines, hotel and food in Haines, personal equipment, and sales tax.
SEASON: We typically run Tsirku River trips from mid-May through the end of August.
ADDITIONAL TRAVEL OPTIONS: Haines based programs can easily be combined with mountaineering, sea kayaking, skiing, hiking, ice climbing or rock climbing programs. Call for more details.
Please contact us if you have any questions, or if you would like additional information.