Bald Eagle Preserve Rafting 
(1 Day)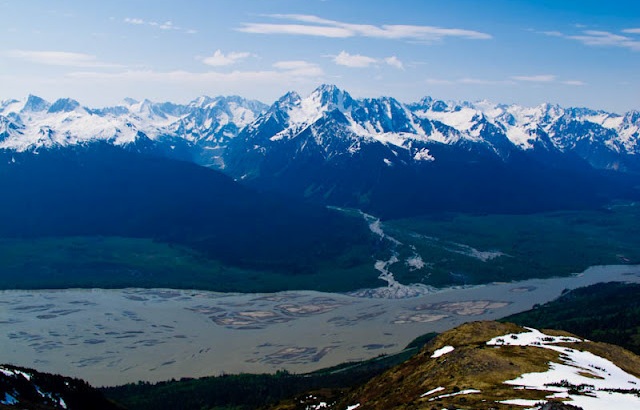 Join Alaska Mountain Guides for a spectacular river float trip amidst the Chilkat Bald Eagle Preserve. It offers a scenic float trip with abundant wildlife viewing opportunities. You're likely to see numerous bald eagles feeding on the plentiful salmon run and may spot bear or moose along the river banks.
We'll meet up in Haines and drive about an hour to our put in. We utilize a variety of put ins depending on river conditions to make for the highest quality experience. Once at the put in, you're experienced naturalist guides will go over a safety talk prior to boarding 16 foot oar rafts and heading out on the river. We'll stop in a scenic lunch spot along the way.
The Alaska Chilkat Bald Eagle Preserve was created by the State of Alaska in June of 1982. The preserve was established to protect and perpetuate the world's largest concentration of Bald Eagles and their critical habitat. The Preserve consists of 48,000 acres of river bottom land of the Chilkat, Kleheni, and Tsirku Rivers. These three rivers form a broad delta, home to Klukwan, the mother village of the Tlingit Nation.
Our bald eagle preserve float trip is a fun day trip with great guides and plentiful wildlife viewing opportunities.

RAFTING INFORMATION
HAINES: Haines Alaska is the starting/finishing place for this trip. Haines is a small community located along the fjords at the top of the Inside Passage. The natural beauty and wilderness access found here are responsible for Haines' reputation as a center for wilderness adventure in Alaska.
TRANSPORTATION: After meeting in Haines, we will drive in Private Vans up the Haines Highway for about an hour to our put in. After a great day of rafting, we'll come to our take out, and drive about 30 minutes back to Haines at the end of the day.
THE RIVERS: The Chilkat, Tsirku & Klehini rivers make up the drainage of the Chilkat Valley. Our put in location will vary, depending on conditions. Generally, we'll be on the water for 4-5 hours. It is a comfortable float trip with occasional Class I & II rapids.
OUR GUIDES: Alaska Mountain Guides & Climbing School Inc. instructors and guides are professionals. They are special individuals who have a passion for being on the river. They have a wealth of experience from guiding throughout Alaska and the world, and they genuinely enjoy sharing their knowledge. Their skill and positive attitudes help our guests to have the best possible experience during their trip. Your safety and enjoyment are their primary goals.
LENGTH: One day Haines to Haines. About 6 hours overall.
INCLUDED: Transportation to and from Haines, lunch for the day, instructors/guides, a dry bag for some odds and ends, and all group rafting equipment.
NOT INCLUDED: Airfare to/from Haines, hotel and food in Haines, personal equipment, and sales tax.
SEASON: We typically run Bald Eagle Preserve Rafting Day trips from mid-May through the end of August.
ADDITIONAL TRAVEL OPTIONS: Haines based programs can easily be combined with mountaineering, sea kayaking, hiking, ice climbing or rock climbing programs. Call for more details.
Please contact us if you have any questions, or if you would like additional information.