Whitewater Rafting
Few other sports that span the range of human experiences can boast the same adventure that whitewater rafting has to offer.  Alaska Mountain Guides and Mountain Guides International whitewater rafting trips can provide moments of exhilaration and adrenaline as well as relaxation and leisure.  Our river expeditions worldwide combine the best elements of every type of outdoor recreation to create a wholly original experience that offer appropriate group challenges and rewards. From the cold clear meandering rivers of northern Alaska, to the big water of the Amazon, the dangerous waters of east Africa, and the lazy floats through America's canyonlands, AMG and MGI whitewater rafting trips open the door to a new kind of adventure.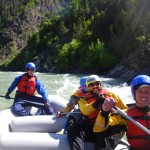 Alaska & Yukon Territory
1-12 days
Canada's Yukon Territory and Haines, AK contain some of the wildest rivers and remote backcountry areas on the continent that have lured adventurers for years.  From huge, braided glacial drainages to tight gorges and plunging waterfalls, the rivers of the Yukon and Haines offer varied features, perfect for a unique and memorable whitewater adventure.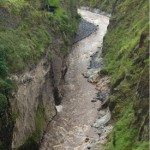 Ecuador
7 & 12 days
Natural wonders abound within the small country of Ecuador.  Between the remarkable Galapagos Islands and wilderness of the Amazon rainforest, exists the high Andean plateau.  Exciting rivers spill off of the highlands towards the coast and into the Amazon basin, making Ecuador one of the premier rafting destinations in South America.  This trip explores the Taochi, Blanco, and Upano rivers, towns of Quito and Tena, and the heights of Sangay National Park.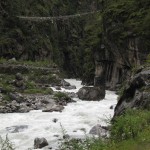 Nepal
7-24 days
The Sun Kosi and Karnali Rivers are two of the largest drainages in Nepal.  The Sun Kosi descends from the great Mahabharay Lekh Mountains and the Himalaya, encompassing the majority of eastern Nepal's watershed.  The Karnali, of western Nepal, is the longest and largest river in the country.  These world renowned river expeditions offer exciting Class IV+ rapids amidst a unique wilderness and culture.