Design Considerations
Ropes Course & Zip Line designs are generally divided into three main categories, natural, artificial, and combination courses. AMG works with our clients to develop a design that is the best fit for the physical location, specific use, and project budget. We build our courses with additional safety options built in and over engineer to handle high volume use with a minimum of maintenance.
Natural Course Designs
Natural designs primarily use existing trees and changes in topography within the layout.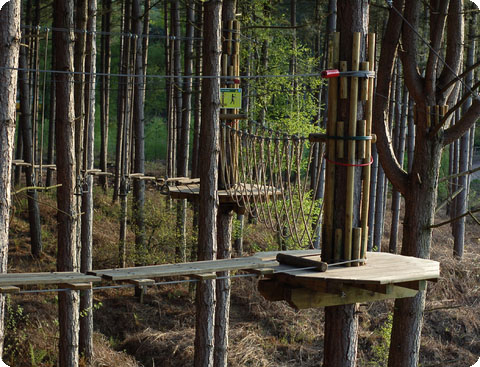 Advantages
The use of trees makes the course have a more natural feel that translates to the guest's experience.
The initial cost of a tree course will be significantly less than the same course constructed from utility poles.
Disadvantages
Course lay-out is determined by the tree locations
Trees are living and growing and will require maintenance and repair over time
Not all species of trees are appropriate for ropes course construction.
Artificial Course Designs
The main building materials for artificial course constructions are utility poles.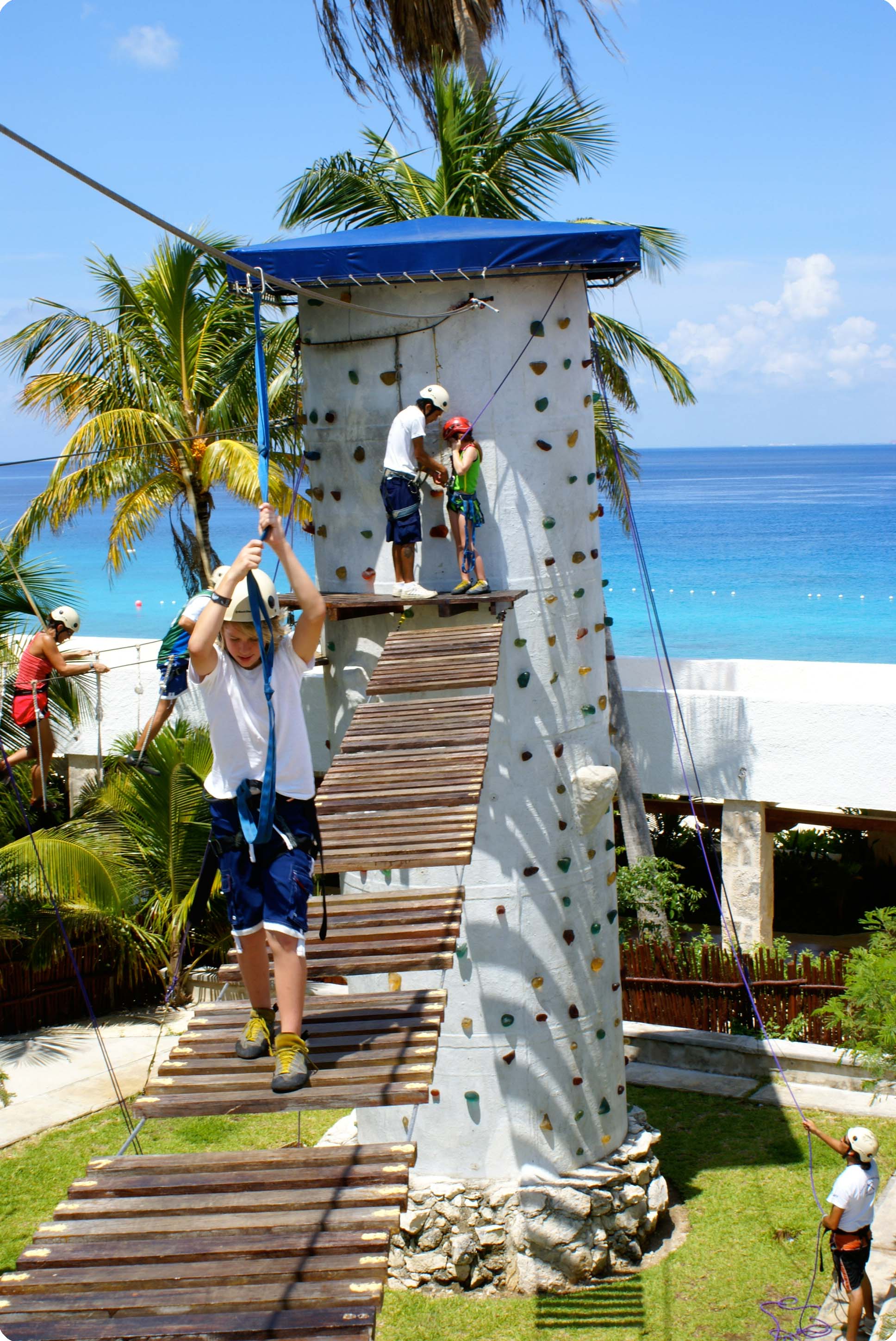 Advantages
The course lay-out can be designed in any configuration
Course locations do not require natural features
Poles can be treated and have less maintenance over a longer period
Disadvantages
Course will have a more artificial feel
Poles can add to the initial cost of course construction
Combination Designs
Regardless of location, our designs look to use interesting or prominent features as a focus within the course layout. Unique features come in all shapes and sizes and AMG designers are experts at gaining the most from what is available at any potential site.
Examples of potential unique features may include the following:
Natural ravines or gullies that allow for the course to cross back and forth over the feature
Hills or other highpoints to gain elevation
Natural rock walls can be enhanced to be centerpieces of any course
Rivers, lakes or ponds make an incredible addition to a course with the opportunity to zip over, by, or into the water!
Construction Materials
AMG utilizes a variety of materials for our course construction depending upon location. Treated lumber, fiberglass, and other materials are some of the traditional materials we utilize. Where there are environmental considerations, such as hurricanes, we may recommend the use of reinforced steel towers to guarantee that the construction is able to withstand any potential storm event.
AMG works with the largest steel providers in the United States and can guarantee you the best prices, consistent manufacturing, and large available inventory. Our steel partners have distribution centers across the nation providing low shipping costs, quick delivery, and a consistent product we can count on no matter where your project is located.
Cable
3/8-inch diameter 7 x 19 galvanized cable is the industry standard for ropes course construction. Depending upon application and design, AMG may recommend the use of larger cable diameters, plastic coated cable, or other options in order to best meet the demands of a specific course location and program focus.
Lumber
Treated lumber provides a great long term option for the construction of platforms and other elements. AMG uses galvanized screws in our construction for their longevity and the general lack of maintenance.
Element Connections
Drop forged galvanized steel connections are used throughout our course designs. Galvanized components are perfect for all weather conditions and will provide lasting quality.
Questions?
give us a call at
1.800.766.3396
or contact us at
info@alaskamountainguides.com