Alaska Mountaineering
The mountains surrounding Haines provide the quintessential Alaskan climbing experience. From the snowy heights of Mt. Fairweather to the airy rock ridges and steep ice of unclimbed peaks and towering seracs, these mountains and glaciers are the ideal climbing location for everyone from the novice mountaineer to the seasoned adventurer.
1
Join us in one of Alaska's premiere heli-skiing destinations! Experienced guides and expert pilots will lead you into one of the greatest untracked mountain wilderness areas in Alaska. Dry, untouched snow and stable weather will give you a helicopter skiing experience to remember.
1
1
The Alaska Mountain Guides Glacier Bay National Park paddling center, located in Gustavus, AK, offers access to expedition paddling that is unrivaled in North America. Alaska Mountain Guides are one of only two organizations permitted by the National Park Service to lead multi-day trips and expeditions in the park.
1
The Mexico Volcanoes of Iztaccíhuatl (17,160ft/5,230m) and Pico de Orizaba (18,491ft/5,636m) tower above the surrounding fields and villages. These glaciated peaks offer guests exciting mountaineering challenges, an engaging classroom and an outstanding introduction to international mountaineering at altitude.
1
1
Aconcagua is located in the central Andes of Argentina near the border with Chile. It offers an incredible climbing experience for individuals seeking the challenges of a high altitude climbing expedition in a spectacular setting. We offer expeditions on four different routes on Aconcagua, including ascents from the Upper Vacas valley on the mountains remote North side.
1
1
The glaciated volcanic peaks rising from the Andean Plateau of central Ecuador are ideal for gaining the experience necessary to be a competent and proficient mountaineer. Cayambe (18,997ft/5,790m), Cotopaxi (19,347ft/5,897m) and Chimborazo (20,701ft/6,310m) are spectacular peaks and offer guests a great initial high altitude experience.
1
1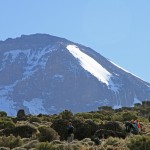 This expedition follows the Machame, Lemosho, and Rongai Routes. These are fantastic routes with incredible scenery. They are non-technical and give climbers a chance to climb at altitude amidst an amazing backdrop. We combine ascents of these routes with a descent of the normal route to complete a loop of the mountain. This is an amazing way to see all that Kilimanjaro has to offer, and to miss the crowds.
1
Tanzania has some of the best game viewing in the world. Options include Ngorongoro Crater, The Serengeti, Lake Manyara, and Tarangire. Here are a few photos from our most popular safaris in Tanzania.